Hotel Indigo® Rome - St. George
5 Star Luxury Boutique Hotel in Rome
Hotel in Rome city centre: travel experience between design, gastronomy and wellness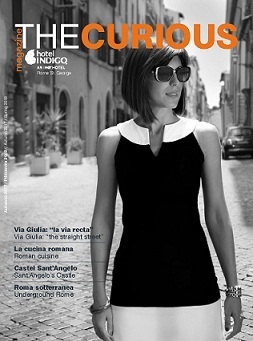 Neighbourhood Story
Renowned for his design of St Peter's Basilica, Donato Bramante is a founding father of the high Renaissance style of 16th century in Rome. Responsible for the overall planning of Via Giulia, Bramante was commissioned by Julius II with the construction of a massive central tribunal - the Palazzo dei Tribunali. The building was never completed but the original travertine blocks, known as the sofas of Via Giulia, that formed the basis of the palace, can be clearly seen in the foundations of Hotel Indigo® Rome - St. George.


MAGAZINE: THE CURIOUS

Discover unique with our new magazine. Enjoy the Eternal city off the beaten track, get to know its hidden gems and immerse yourself in our neighbourhood story.
Contemporary Rooms
The hotel offers 64 elegant and modern rooms between Standard, Superior, Junior Suite, Family Deluxe and 2 bedrooms Executive Suite.

Each room type has its own character and a strong personality, some rooms are inspired by the greatness of the Renaissance with details of the paintings of Caravaggio and works of Bramante, others feature one of the icons of Italian '60s, the legendary Fiat 500.
A contemporary design blended with classical details.

True Dining Experience
Dining experience at Hotel Indigo® Rome - St. George reflects the identity, the roots and the culinary tradition of Rome. I Sofa Bar Restaurant & Roof Terrace restaurant prefers typical and local products for a genuine and authentic experience. The Bar, with its intimate atmosphere, favors Lazio's wineries and craft beers in addition to classic drinks. The Roof Terrace operating during summer, offers a breathtaking view over the Eternal City, while sipping a cocktail at sunset or tasting a romantic dinner.
MICHELIN GUIDE 2018: we are very proud to be featured in the 2018 edition of the prestigious Michelin Guide.


Recovered Wellbeing
Access to the St. George Spa with large hot tub, sauna, Turkish bath and mini-gym is complimentary for all hotel guests.

Soft atmospheres, enveloping essences and fine notes allow you to find harmony and balance after a long sightseeing day in Rome. Customized beauty treatments and a range of different massages complete the offer.